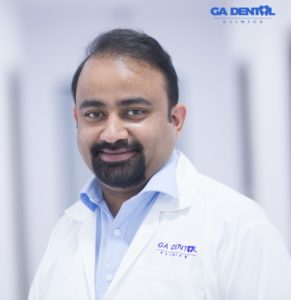 Dr. Gowtham, MDS (Endodontistry)
Meet the Smile Maker – Dr. Gowtham Kattamuri. He is a specialist in Endodontistry, Conservative Dentistry, and
Implantology
. He has sharpened his skills with a decade of experience in excelling at delivering medical treatments. He is considered as one of the pioneers in the field of dentistry in Hyderabad and in India. He was a consultant in most of the leading dental hospitals in Hyderabad. Now, he practices in his own clinic, GA Dental. He is also the director of KGH Hospital, Hyderabad and the chief of KGH FAMILY DENTAL CARE.
Education:
Dr. Gowtham has done his Bachelor in Dental Surgery degree from Rajiv Gandhi University of Health Sciences in 2006 and MDS – Conservative Dentistry & Endodontics from Dr. MGR Medical University in 2010. After his post-graduation, he also became an Implantologist.
Treatments offered by Dr. Gowtham Kattamuri:
Dr. Gowtham believes in offering the best to his patients in all possible ways. He makes an active effort to include all the advanced and latest techniques and tools in his oral health treatment procedures. He specializes in:
Replacement of teeth
Dental implants
Restorations
Extractions
Treatment for maxillofacial defects such as artificial eye, ear, nose, and orbital defects
He also takes a special interest in various cosmetic dentistry procedures. He understands the emotional factor related to a person's dental beauty and its impact in their psychology and social life. He offers various something called a 'smile makeover' which includes dental treatments like:
Laminate veneers (invisible orthodontics)
Metal-free braces
Dental Contouring
Memberships
Dr. Gowtham is a lifetime member of Indian Endodontics Society, Indian Society of Oral Implantologists and Indian Dental Association.
GA Dental Clinic
Dr. Gowtham Kattamuri is the chairman of GA Dentals. The clinic has an excellent team of dental surgeons in all its departments. He and his team has done more than 3000 successful implants. They are trained in basal implants. They even invented a concept called BASAL IMPLANTS @ TALL TILTED BENDABLE which is an immediate loading concept, somewhat similar to keyhole surgery. The clinic attends to patients from across the world. Being a trained international dental patient coordinator himself, he receives patients from USA, UK, Australia, New Zealand, Africa, Zimbabwe and many more.
Dr. Gowtham is dedicated to making every dental treatment/ surgery a wonderful experience for his patients.
You can visit us Any time. To GET FREE CONSULTATION, Book/Call For Appointment