Fix Your Broken Or Missing Tooth In a Day
Hide damaged or missing teeth and restore the beauty of your smile
A Permanent solution for life
Crowns and bridges are fixed prosthetic devices that are placed on existing teeth or implants. Crowns are used as a cap or covering to cover a damaged tooth or implant, to strengthen the tooth, and improve its appearance, shape or alignment. Bridges on the other hand, are used to fill any gaps left by one or more missing teeth.
Crowns and bridges are made of porcelain or ceramic and can be matched to the color of your natural teeth. Materials like gold and metal alloys are also used as they are stronger than porcelain and may be recommended for back teeth.
In addition, all our dental crown and dental bridge restorations are created in a high-end dental lab to ensure proper fit and color.
Have you been living with tooth loss or teeth that have minor damage? Dental bridges and dental crowns in GA Dental Advanced Clinic may be the solution for you!
Have you been living with tooth loss or teeth
that have minor damage? Get a Checkup Done Today.
Dental Crowns helps in restoring the shape, size, and appearance of the tooth. They are a tooth-shaped cap which is placed on the tooth which enhances the strength of the tooth. Dental Crowns Treatment is the best solution If the major part of the tooth is missing. After the placement of a crown, the tooth can function normally again.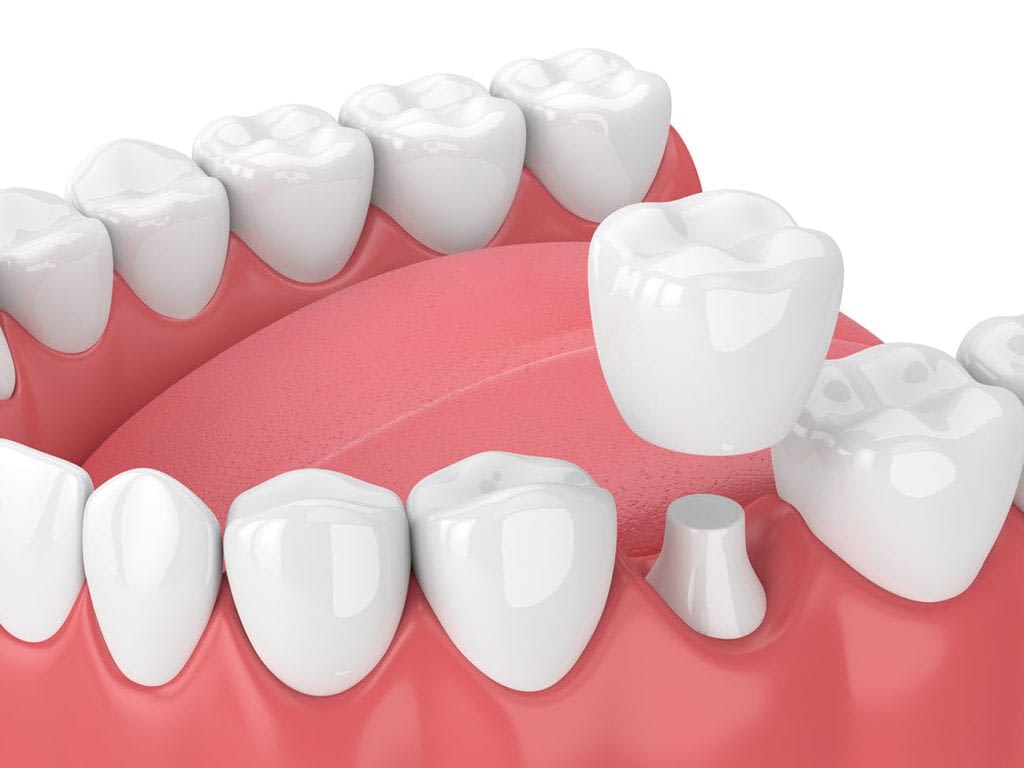 Dental bridges helps in replacing a single tooth or a small span of missing teeth. They are strong & durable restorations that fill in the gap between two healthy teeth to restore the smile & other oral functions. Also, dental bridges helps to improve the aesthetics of the smile by completing the full set of healthy-looking teeth.
Benefits of Dental Crowns and Bridges
Filling any gaps in your teeth

Cap damaged teeth and implants

Prevent neighbouring teeth from shifting
Reduce the risk of infection

Improve the appearance of your smile
REBALANCE YOUR SMILE WITH CUSTOM
CROWNS AND BRIDGES!
Restore your smile in 3 simple steps:
Evaluation:
Our dentist will examine the extent of damage to your teeth to determine the best course of action.
STEP 2
Custom Impression:
We will clean any plaque or decay that remains, make a mold of your teeth, and send it to a lab to prepare the customized impression. This could take a couple of weeks so in the interim, patients are fitted with a temporary crown/bridge.
Whitening:
We will remove the temporary crown/bridge and replace it with the permanent one, making adjustments for the right fit and bite. We have years of experience in repairing broken, damaged teeth with high-quality crowns and bridges. For more information, schedule a free consultation with our dentists.


Is It Worth It?
Check Out Our Patient Results Below!
Got Questions?
Here are some FAQs
We get various questions from international patients interested in getting dental implants
We offer a full range of dental services like Dental Implants, Braces and Orthodontics Treatment, Laser Root Canal / Traditional Root Canal, Pediatric Dentistry, Removable & Fixed Bridge, Smile Designing, Sleep Apnea Dental Treatment, Laser Dentistry Treatments, Cosmetic Dentistry Treatments, Sedation Dentistry, Emergency Dentistry (24x7) Orthognathic Surgery Treatment.
If the specific service you need isn't listed, call us at 9505 44 3330. Chances are we do it.
Still Not Sure? Talk to our Senior Dentist
Discuss your dental problem before coming down to our client