Get beautiful, healthy teeth that look and feel completely natural
Know More About SINGLE SITTING IMPLANTS
Missing teeth can be embarrassing, making you conscious of your smile and affecting your self-confidence. They not only impact your smile, but can also change your bite, and weaken your jawbone.
When a tooth is missing, your jawbone eventually starts to deteriorate, leading to further dental complications. Poor-fitting dentures can slip within your mouth, affecting your speech and causing embarrassment.
Dental implants are the most effective procedure to replace missing teeth. They are substitutes (usually made of titanium) for the roots and are designed to maintain the natural shape of your face and smile.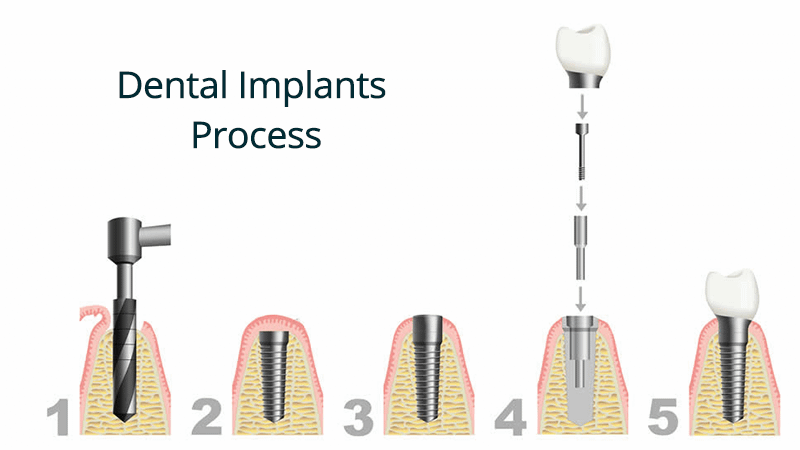 Because they are implanted in the jawbone and are not visible after the procedure, dental implants are the best alternative for a natural tooth. They actually stimulate bone growth and prevent future bone loss.
They feel and act like a natural tooth when smiling or chewing, and let you speak without the worry that your dentures might slip.
Benefits Of Dental Implants
The benefits of Dental Implants are wonderful, some of them are as below:
Improved smile and appearance

Improved speech

Greater self-confidence

Greater comfort

Easier eating

Improved oral health

Greater durability

Greater convenience
Are You a Good Candidate for Dental Implants?
Get a Free Checkup Done.
Get your dental implants in 3 simple steps:
STEP 2
Placement of Implants:
We will perform the Implants placement procedure which usually takes about 1-2 hours, and healing takes about 3-6 months.
STEP 3
Crown Placement:
We will place the crown which is designed to perfectly fit into your jaw. The procedure typically takes 2 visits within 1-3 months, which varies from patient to patient. We also offer single-sitting dental implants. Single-sitting or same-day implants are a complex procedure and can only be performed by highly skilled dentists. When done correctly, they save you the time and the hassle of multiple visits to your dentist. Once these implants heal, they are just as strong and healthy as your natural teeth.
Same-day Dental Implants vs. Regular Dental Implants
Full Mouth Rehabilitation
A full mouth rehabilitation or reconstruction involves replacing or restoring every tooth in your mouth and could also include fixing your gums, jaw, and bite. It is usually recommended for patients with advanced wear or damage to their teeth. Our dental implant specialists can restore your smile with healthy, natural-looking teeth. For more information, schedule a free consultation.
How good a candidate are you for
Dental Implants? Get a free Checkup done.
What are the Benefits of Single Sitting Implants?
Minimal or Nil Complications

Can Be Done In Single Sitting i.e, 72Hours
Immediate Loading Can Be Done

High Success Rate & Can Last For A Lifetime
Patient Results for Dental Implants
Got Questions?
Here are some FAQs
We get various questions from international patients interested in getting dental implants
We offer a full range of dental services like Dental Implants, Braces and Orthodontics Treatment, Laser Root Canal / Traditional Root Canal, Pediatric Dentistry, Removable & Fixed Bridge, Smile Designing, Sleep Apnea Dental Treatment, Laser Dentistry Treatments, Cosmetic Dentistry Treatments, Sedation Dentistry, Emergency Dentistry (24x7) Orthognathic Surgery Treatment.
If the specific service you need isn't listed, call us at 9505 44 3330. Chances are we do it.
Still Not Sure? Talk to our Senior Dentist
Discuss your dental problem before coming down to our client