Help your child feel more confident and proud of their smile
Dentistry for Children and Teens
Help your child feel more confident and proud of their smile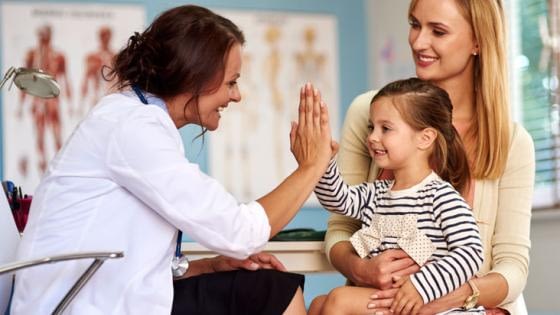 Children usually have an upper front tooth protruded as a result of genetics. They become worse if a child has a habit of sucking on their thumb or their pacifier for many years, if they have developed poor chewing habits or if they have the nervous habit of tongue thrusting against their teeth. Additionally, children may develop an underbite as a result of respiratory or other problems that cause them to breathe through their mouth.
Our pediatric dentists provide advanced treatments to enhance or restore your child's smile. They can identify crowded or misaligned teeth and actively intervene to guide the teeth as they develop in the mouth. In addition to technical expertise, a key aspect of pediatric dentistry and orthodontics is making children feel comfortable and less anxious. Our staff excel at this and kids aren't stressed about an upcoming visit to the dentist.
We also specialize in minimal invasive dentistry (MID) for kids, which is an emerging trend in pediatric dentistry - to treat tooth decay. Natural enamel and dentin are the best dental materials in existence, and therefore MID procedures focus on preserving them. This helps maintain the natural, healthy look and structure of your child's teeth.
What are the Benefits of Teeth Straightening?
Better To Maintain Oral Health Care At Young Age

Can maintain your child's oral health for life.

The Child Feels More Confindent
Early Detection Can Save Serious Oral Issues

The Fear Of Dentists Doesn't Develop At Adult Age
Is Your Child Suffering From Constant Oral Issues?
Get a Free Checkup Done.
A Healthier, Happier Smile For Your Child In 3 Simple Steps:
First Visit:
We focus on making your child's first visit to the dentist as enjoyable and positive as possible. Children who have routine dental check-ups are more likely to have better dental care habits.
Evaluation:
Our pediatric dentist will conduct a comprehensive examination of your child's teeth and recommend the best course of action.
Continuous Guidance:
We will educate your child on the importance of maintaining a good dental health program and schedule any follow-up visits if necessary.We offer comprehensive dental services for children of all ages, from infants to teenagers. For more information, schedule a free consultation with our pediatric dentists.
Early Detection is Helpful For Better Oral Health?
Schedule your appointment today.
Got Questions?
Here are some FAQs
We get various questions from international patients interested in getting dental implants
We offer a full range of dental services like Dental Implants, Braces and Orthodontics Treatment, Laser Root Canal / Traditional Root Canal, Pediatric Dentistry, Removable & Fixed Bridge, Smile Designing, Sleep Apnea Dental Treatment, Laser Dentistry Treatments, Cosmetic Dentistry Treatments, Sedation Dentistry, Emergency Dentistry (24x7) Orthognathic Surgery Treatment.
If the specific service you need isn't listed, call us at 9505 44 3330. Chances are we do it.
All our dentists are having a minimum of 10-20 years of experience across all dental disciplines. Also, the team participates in various national and international dental conferences in order to stay updated with with all of the latest techniques and research. They're led by our Clinical Director, Dr. Gowtham Kattamuri (MD, BDS, MDS).
Yes. A local anesthetic will be given before the procedure so that you do not feel any pain. If you have anxiety or fear you should discuss sedation options with your dentist. With the latest equipments & technologies, now most of the treatments are minimal invasive.
We provide a 'GA Satisfaction Promise' for all treatments, in which we make sure you'll be satisfied with your complete treatment experience.
Dental checkups at any branch of GA Dental Clinics are free. Also, if it's your first treatment with us, you will be eligible of a straight 20% discount.
If another dentist has recommended that you get a procedure and you want a second opinion, we are more than happy to provide one. Just give us a call at 9505 44 3330. We can provide you with our proposed treatment plan to take to the another dentist.
Just call us at 9505 44 3330. Just make sure to do so more than 24 hours before your appointment time. 
Please call us on 9505 44 3330 in as soon as you are experiencing any dental emergencies like pain, swelling, bleeding, or dental trauma. All our dental clinics are available 365 days 24/7. 
Still Not Sure? Talk to our Senior Dentist
Discuss your dental problem before coming down to our client